Competitor Information
>>>> Note that the Whitehill Classic event is on hiatus for the foreseeable future <<<<
>>>> At this stage there are no plans to run this event again in 2019 <<<<
Event Fees
All prices listed on this website are in NZD.
The name that will appear on cardholder statements will be WhiteHill Wind Farm.
Please ensure all Credit Card details are entered as printed on your card.
How to Find Us…
The Site Entrance is located at 509 Felton Road (10 min drive from the town of Mossburn).  See a map and driving directions below for directions from Mossburn.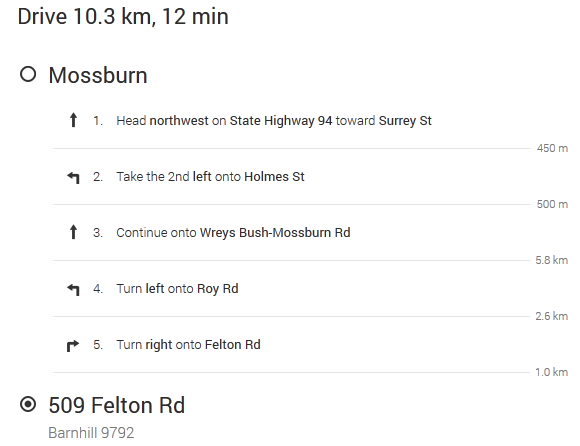 Provisional Timetable…
| | |
| --- | --- |
| 8:00am | Site gates open |
| 10:45am | Briefing – compulsory for all competitors. |
| 11:00am | Full Course Bike Ride begins. |
| 11:00am | Recreational Bike Ride begins. |
| 11:05am | Duathlon, Cross Country Run and Recreational walk begin. |
| 11:10am | Junior events begin. |
| 1:30pm | Prize Giving begins – Fantastic prizes! |
BBQ all day
Drinks  facilities available all day
All competitors pre entered need to register on the day and collect their race numbers.  Registrations will close at 10:15 am.
Late entries will be accepted on the day up until 9am ($10 extra). NB NO ENTRIES AFTER 9am.
On Line entries will close at 6pm on Friday 26th February 2016.
Reserve Day – Sunday 28th February 2016
(in case of extreme weather)
For Postponement notification tune to Hokonui Gold,  Classic Hits or News Talk ZB at 8:00am Saturday 27th February 2016.
The organisers reserve the right to change any or all times in the interest of safety, because of adverse weather conditions, or unforeseen circumstances.
The access road will be closed to traffic for a short time at the beginning of the event for safety reasons so competitors need to arrive on time before the event starts.
Absolutely NO SMOKING anywhere. Keep clear of all switch yards.
Please keep to the marked tracks at all times.
No dropping of any litter on site.
The organisers would like to thank the property owners:
Meridian Energy, Earnslaw 1 and Mike Heenan.
Event safety information…
Confirmation will be sent to every competitor upon receipt of entry.
Registration – all participants must register on the day to receive their race number.
Clothing – carry suitable clothing for conditions on the day.
Drink – fluid will be available from the aid station at the summit point (10km in). This year there will also be a second fluid station for the runners.
Food – we recommend that you carry and consume enough to get you through the event.
Helmets – all cyclists must wear a cycle helmet.
Bike checks will not be carried out, but please ensure your bike is of a high standard due to nature of the terrain. We recommend you carry a tool kit including 2 spare tubes, pump, multi-tool and chain breaker.
Failure to follow the marshals' instructions or to comply with the race rules
will result in disqualification.
First aid will be available on course.
Withdrawals and Refund policy…
Withdrawals due to injury prior to 20th February 2016 will receive a 50% refund.  There will be no refunds after this date.  If the reserve day should also be cancelled due to adverse weather or other unforeseen circumstances there will be no refunds.